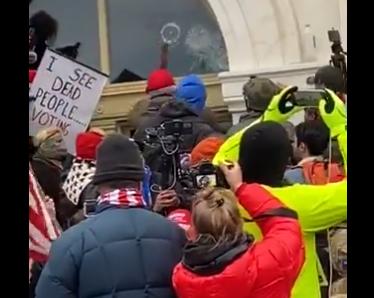 During the meeting at the Capitol to certify the Electoral College votes, several hundred  swarmed the steps of the Capitol. Some of them obtained entrance to the building and posed for publicity photos. The vast majority of the demonstrators were peaceful as expected but a handful had a mission of violence and destruction of property. It is not yet known who these destroyers were but, because they were among those who carried Trump signs and banners, it was easy for the media to call them Trump supporters. No one questioned the obvious, which was that they might have been agents of Trump's enemies carrying out a mission to throw public opinion against the President at this critical moment. Predictably, Trump supporters now are being labeled as terrorists. Meanwhile, Republicans used the chaos as an excuse to drop the electoral challenge. This event closely follows the pattern of a color revolution carried out in many nations around the world in the past few decades, led and financed by George Soros and the US Deep State. This time, it is happening in the US.
Vice President Pence certified the Electoral votes at 3:40 am. Later, President Trump announced that there will be a peaceful transition of power on January 20th. -GEG
Timeline of events on January 6, 2020:
https://off-guardian.org/2021/01/06/trump-supporters-allegedly-storm-the-capitol/
Compilation and summary by JW Williams
Here is a video of Trump supporters calling a man trying to shatter the window 'Antifa' and trying to stop him. They finally pull him away from the window as the crowd cheers. He clearly was not of the same mindset as the vast majority of demonstrators. The mainstream media is ignoring this video because it unravels the narrative that Trump supporters are violent.
Watch video here:  
https://www.thegatewaypundit.com/2021/01/not-making-headlines-trump-supporters-pulled-protesters-away-capitol-building-started-damaging-people/
John Sullivan, 25, a BLM leader from Utah, and founder of Insurgence USA, was identified as he mingled among the demonstrators on Wednesday. Sullivan was arrested last July and was accused of coordinating violence against drivers in Provo, Utah, where a man was shot through his window. He was interviewed by CNN about the video he took of Ashli Babbitt lying in a pool of blood. It is unknown why he was in the Capitol but, whatever it was, it was not to support Trump.
Watch videos here:
https://www.zerohedge.com/political/why-was-founder-far-left-blm-group-filming-inside-capitol-police-shot-protester
Photos inside the Capitol featured a man with a beard, and yellow sweatshirt who some have claimed was Antifa, while others say he is a skinhead. Baked Alaska, who was at the Charlottesville event in 2017 was inside the Capitol, too. A man wearing a Camp Auschewitz sweatshirt with the word Staff on the back, appeared in photos in the Capitol supposedly as a Trump supporter. The man in the fur hat with horns was identified as Jake Angeli, known as the QAnon shaman, attended a BLM rally in Arizona in June 2020 carrying a sign that read 'Q Sent Me'.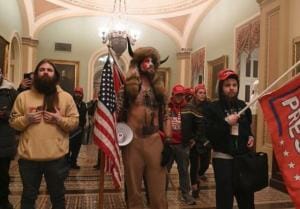 G. Edward Griffin commented that while all of this may seem confusing, one fact emerges beyond doubt: Most if not all of these weird people are agent provocateurs. They are professionals who work for governments or corporations or anyone else who will hire them to pretend to be avid supporters of whoever their employers seeks to discredit. Their mission is to publicly oppose their employers in as obnoxious or vile manner as possible so as to throw public sympathy to their employers. Once you understand there is a profession that specializes in this tactic and once you see young men in the streets of America dressed in WWII Nazi uniforms demonstrating in support of an issue you know is worthy, you will never be fooled again.
Sources;
https://www.dailydot.com/debug/camp-auschwitz-sweatshirt-neo-nazis-capitol-riot/
https://leadstories.com/hoax-alert/2021/01/fact-check-man-wearing-horns-with-a-tattoo-storming-the-capitol-is-not-antifa-pedophile-he-is-a-qanon-trump-supporter.html
A man recorded video of chartered buses that he said were transporting Antifa – and they received a state police escort to the Capitol.
In another video, people claim that police officers opened the gates to allow people into the Capitol. They use this video to argue that nobody "stormed" the Capitol. The video does, indeed, show the police simply walking away, allowing the crowd to follow them onto the Capital grounds. However, it could be argues that they simply were too greatly outnumbered by the demonstrators to make it possible to retrain them. It could be interpreted either way.
Watch videos here:
https://www.waynedupree.com/2021/01/trump-dc-antifa-jan-6/
A video on Twitter shows a police officer trying to stave off a crowd as it enters the Capital, and then retreating as the crowd pursues him.
Watch video here:  
https://twitter.com/jenniferjoyce16/status/1347001373443821568