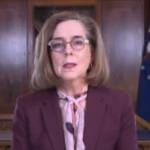 Mayor of Sandy, Oregon, Tells Residents to Ignore Governor's Covid-19 Policies. Business Owner Sues Governor for Terrorizing Her Family
Stan Pulliam, the Mayor of Sandy, Oregon, blasted Democratic Governor Kate Brown's orders when a state of emergency was declared until March 3, 2021. The previous executive order was set to expire on Jan. 2, 2021. Lindsey Graham, owner of Glamour Salon in Salem, Oregon, filed at $100,000 lawsuit against Governor Brown for "terrorizing" her family when she ignored the state's lockdown orders. According to Graham, three days after she opened her salon, Child Protective Services showed up at her home and interviewed her children without her presence. -GEG
A Republican mayor in Oregon is encouraging business owners to defy the state's coronavirus restrictions.
Stan Pulliam, the mayor of Sandy, Ore., blasted Democratic Gov. Kate Brown's orders after a state of emergency was declared until March 3, 2021. The previous executive order was set to expire on Jan. 2, 2021.
"I think all Oregonians should take pause, stand up and say 'this must stop,'" Pulliam told "America's Newsroom" on Wednesday.
A salon owner also accused the Oregon governor of "retaliating" and "terrorizing" her family as she faces a $100,000 lawsuit for defying the state's lockdown orders. Lindsey Graham of Glamour Salon argued Brown is acting like "a dictator."
Both the Oregon mayor and salon owner said they continued to receive death threats for resisting the coronavirus restrictions. Pulliam called on businesses to ignore the statewide coronavirus orders and remain open.
Additional source: https://www.thegatewaypundit.com/2020/12/salon-owner-files-lawsuit-oregon-governor-threatening-take-kids-defying-lockdown/