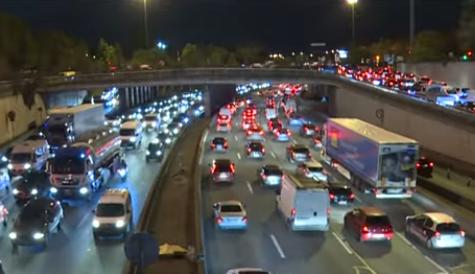 New lockdown measures are being imposed across Europe, that include varying levels of restrictions that may include stay-at-home orders and curfews, closing restaurants and bars, cinemas, gyms and other "non-essential" businesses. Some countries have announced the new restrictions will last for four weeks. Schools will remain open in most countries. A 430-mile traffic jam clogged up Paris Thursday night just hours before the city was placed under a new lockdown. British Prime Minister Boris Johnson said that he is sorry for the impact on businesses, but said the furlough system paying 80% of employee wages will be extended through November. He claimed that deaths could reach several thousand per day and would be worse than the death rate in April.
Boris Johnson is reportedly considering plunging England into a second lockdown next week, making the country the latest in Europe to impose new national restrictions.
Everything except essential shops and education settings could be closed under the new measures.
Across the continent, countries are heading back into different forms of lockdown in a bid to limit the spread of coronavirus.
France, Germany, Belgium and Greece have become the latest countries to announce second lockdowns. Increased measures have also been announced in Spain and Italy, among others.
Here's what the restrictions look like across the continent.
France
Until 1 December, people in France will only be allowed to leave their homes to buy essential goods, for medical reasons and to exercise for an hour a day.
Anyone who wants to go outside will be required to fill out an "attestation" – a form that was also required to leave home during the first lockdown.
The Le Parisien newspaper says the office of the French prime minister has confirmed that people will be allowed outside up to 1km from their home.
This also means all non-essential businesses will be forced to close, including restaurants, bars and many shops.
Additional source:
Prime Minister Boris Johnson has announced a second national lockdown for England to prevent a "medical and moral disaster" for the NHS.
He said Christmas may be "very different" but he hoped taking action now would mean families can gather.
Pubs, restaurants, gyms and non-essential shops will have to close for four weeks from Thursday, he said.
But unlike the restrictions in spring, schools, colleges and universities can stay open.
After 2 December, the restrictions would be eased and regions would go back to the tiered system, he said.
Mr Johnson said: "Christmas is going to be different this year, perhaps very different, but it's my sincere hope and belief that by taking tough action now we can allow families across the country to be together."
The prime minister told a Downing Street news conference that he was "truly, truly sorry" for the impact on businesses, but said the furlough system paying 80% of employee wages will be extended through November.
"No responsible prime minister" could ignore figures which suggested deaths would reach "several thousand a day", with a "peak of mortality" worse than the country saw in April, Mr Johnson said.
He said hospitals even in the south-west of England, where cases are among the lowest, will run out of capacity in weeks.
"Doctors and nurses would be forced to choose which patients to treat, who would get oxygen and who wouldn't, who would live and who would die," Mr Johnson said.