President Trump and the First Lady Test Positive for Coronavirus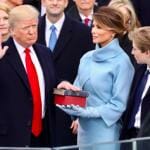 President Trump announced that he and First Lady Melania Trump have tested positive for Covid-19 after staffer Hope Hicks tested positive. An unidentified White House official said that the president was experiencing mild symptoms but was working from the White House residence. The First Lady
tweeted
on Thursday night that they both were feeling good. Trump's physician said that the couple "are both well at this time". Neither the PCR test nor the antibody test actually test for a virus and are extremely inaccurate, producing high levels of false positive results. The New York Times estimated that 90% of positive Covid-19 test results are really negative.
"Tonight, @FLOTUS and I tested positive for COVID-19. We will begin our quarantine and recovery process immediately," Trump tweeted just before 1 a.m. "We will get through this TOGETHER!"
Vice President Mike Pence tested negative for the virus on Friday morning and "remains in good health," his spokesman said.
Many White House and senior administration officials were undergoing tests Friday, but the full scale of the outbreak around the president may not be known for some time as it can take days for an infection to be detectable by a test. Officials with the White House Medical Unit were still in the process of tracing the president's contacts, the official said.
Trump was considering how he might address the nation or otherwise communicate with the American people Friday, the official added.
Trump was last seen by reporters returning to the White House on Thursday evening and did not appear visibly ill. He is 74 years old and clinically obese, putting him at higher risk of serious complications from a virus that has infected more than 7 million people nationwide."
The president's physician said in a memo that Trump and the first lady, who is 50, "are both well at this time" and "plan to remain at home within the White House during their convalescence."
Additional source:
Yikes: New York Times Estimates 90% of 'Positive' COVID Test Results Really Are Negative!