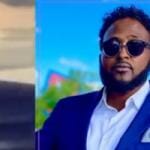 Project Veritas Exposes Vote-Rigging Scheme Tied to Somali Congresswoman Ilhan Omar
Conservative watch-dog group Project Veritas investigated ballot harvesting within the Somali community in Minnesota and was advised that a large extended family clan, including Congresswoman Ilhan Omar's family, are elected into office through voter fraud.
Liban Mohamed, the brother of a Minneapolis City Council, incriminated himself by saying he had 300 absentee ballots for his brother in his car. Minnesota law allows only three ballots to be harvested, not 300. Whistleblower Jamal said that Liban Mohamed is one of hundreds of ballot harvesters who work for Congresswoman Ilhan Omar to obtain blank ballots, especially from the elderly. An unidentified female former political worker said that Ali Isse Gainey, a staff member for Ilhan Omar, provided cash for votes and that Ilhan's office tracks Somali ballots with voters' social security numbers. She said that many of the people who apply for the absentee ballots are from out of state and truck drivers get temporary addresses to vote.