Democrats Plan to Steal the Election Using Mail-In Voting and the Military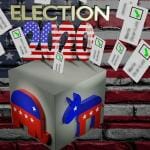 Hillary Clinton exhorted Joe Biden to refuse to concede if he loses the election. "Eventually I do believe he will win if we don't give an inch" she proclaimed. Jeff Bezos' Newspaper, the Washington Post, reported that violence is likely if Joe Biden loses the presidential race. It is predicted that 156-million Americans will cast a ballot in the November election, and an estimated 80-million votes will be cast by mail. Radio-show host Vince Coglianese says Democrats have war-gamed a strategy for Biden to refuse to concede, challenge the results of the electoral college, and then manipulate the electors. The three left-dominated states on the west coast, Washington state, Oregon and California then will threaten to secede from the United State. [Presumably, at this point there will be sufficient violence in the streets to cause Trump to declare martial law] whereupon the military will decide who won the election. Coglianese says the only way to prevent this is to re-open the polls for in-person voting. Josh Mendelsohn, the CEO of Hawkfish, an analytics firms funded by Bloomberg, told Axios that his firm predicts a "red mirage" where Trump wins on election day but Biden wins the election days later when mail-in votes are counted. -GEG
An analytics firm bankrolled by billionaire Michael Bloomberg is predicting that while President Trump will appear to win on November 3, Democrat Joe Biden will actually win the election days later due to mail-in voting.
Josh Mendelsohn, the CEO of Hawkfish — funded by Bloomberg and currently working for various pro-Biden super PACs — told Axios that his firm predicts a "red mirage" where Trump wins on election day but Biden wins the election days later when mail-in votes are counted:
The reason we talk about a red mirage is in fact because we believe that on election night, we are going to see Donald Trump in a stronger position than the reality actually is. We are sounding the alarm and saying that this is a very real possibility, that the data is going to show on election night an incredible victory for Donald Trump. That is likely to be what we see.
Mendelsohn claims it could take weeks before Trump's election night victory is chipped away at by mail-in votes that will show Biden as the winner.