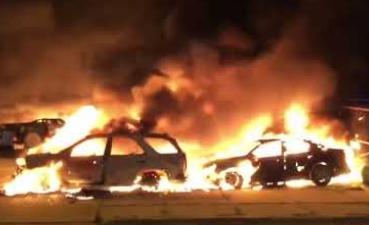 After the shooting of Jacob Blake on Sunday night, video shows Kenosha police officers surrounded by an angry mob amid the riots when someone broke a window in their cruiser. An officer was struck in the head by a projectile, believed to be a brick, and he fell face-first to the ground.
BLM/ Antifa rioters armed with semi-automatic rifles shut down a street and ordered a Sheriff's armored vehicle to stop. Officers deployed tear gas. Tim Pool reported three shots are fired at 1 minute 40 seconds after the sheriff's deputies hurl gas cannisters at the mob.. The leftist aggressors appear to be provoking police into an armed confrontation to create martyrs and set off a civil war.
Protests turned into riots at the Kenosha County Courthouse and looters smashed out the windows of nearby businesses and then ransacked and stole the merchandise inside. More than 50 vehicles were torched at car lot causing $1 million in inventory damage and $500,000 in damage to the lot. Dale's Jewelers says it sustained a lostt of $400,000 due to theft and property damage. A pro-Black Lives Matter Unitarian church was set on fire. City garbage trucks were also set on fire. Governor Tony Evers has called in the National Guard. Militias are now making their way to the area and called for all armed citizens to join them and help protect lives and property from the mobs.
Violent protests after the police shooting of Jacob Blake in Kenosha Sunday evening, Aug. 23 left vehicles and businesses throughout downtown badly damaged, with shattered glass littering sidewalks and the smell of burning debris filling the air.
On Monday evening, nearly every building within a half-mile radius around the Kenosha County Courthouse was boarded up to protect it from further damage, with signs reminding protesters who the violence is hurting.
Cellphone cameras captured looters smashing out the storefront windows of businesses and then ransacking the merchandise inside.
"We've served a lot of people," said the owner of Dale's Jewelers. "We've been good to people, and this is the thanks you get. It's sad. It's sad."