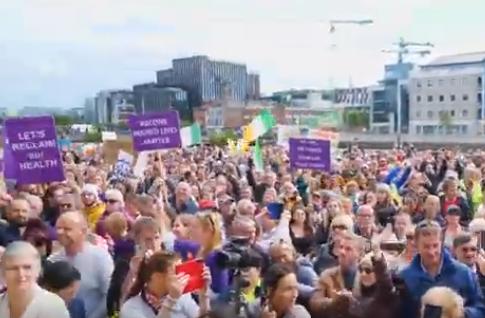 Days after Ireland was placed partially back on lockdown, government officials and other elites broke their own rules and gathered for a golfing holiday. The Yellow Vests in Dublin organized a rally to protest against the lockdown, masks, and tyranny. The mainstream media ignored the demonstration that drew thousands of people. Dr. Marcus De Brun criticized the Irish government for failing to protect the elderly in nursing homes from COVID-19 while imposing harsh restrictions on the public.
Professor Dolores Cahill
, a molecular biologist, said that 80% of the people who received an experimental vaccine had side effects in the first clinical trial, and after the second dose, 100% of the participants had significant adverse side effects. She recommended writing a notice of liability to schools, teachers, principals to governing school boards to prevent them from giving children vaccines.
Another rally in Holland that was ignored by the biased media drew hundreds of demonstrators against COVID-19 lockdowns and masks.