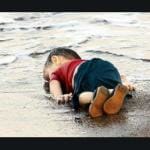 Turkish Human Traffickers Jailed for Killing Boy Whose Drowning Sparked 2015 Migrant Crisis in Europe
Three Turkish men who were said to have been part of a human trafficking ring, have been sentenced for the killing of Aylan Kurdi, the Syrian toddler whose drowning was the catalyst for the 2015-16 migrant crisis. Distressing images of Aylan's lifeless body on a Turkish beach, after the smuggler's boat sank attempting to transport him to Europe, were widely disseminated by the media that used the tragedy to shame Europe into opening its borders. Aylan's father, Abdullah Kurdi, initially said Western governments were responsible for his son's death, claiming they refused to accept them as asylum seekers. Abdullah, who also lost his wife and Aylan's brother on the voyage, was later identified as a human smuggler and the "captain" of the boat. -GEG
Three Turkish men have been sentenced for the killing of Aylan Kurdi, the Syrian toddler whose drowning was the catalyst for the 2015-16 migrant crisis.
Bodrum High Criminal Court, Mugla, sentenced Cebrail E., Ecevit Bulent G, and Ali Can S. to 125 years each for the crime of "killing with eventual intent", according to a CNN, citing local state-run media.
They are said to have been part a human trafficking ring, and to have been sentenced only after the security forces hunted them down to Turkey's southern province of Adana after an attempt to flee from their trial.
Distressing images of Aylan's lifeless lying on a Turkish beach after the smuggler boat attempting to transport him to Europe sank were widely disseminated by both print and broadcast media, and have since been repurposed into grotesque art installations, public sculptures, graffiti, and costumed protests.
In 2015 the images a powerful tool for anti-borders activists, who used them to stampede European leaders led by Germany's Angela Merkel to adopt the open door policy which precipitated the migrant crisis which continues down to the present day.
While traffickers have now been convicted of Aylan's killing, his father, Abdullah Kurdi — who had been living in Turkey in safety and receiving financial assistance from Canada-based relations for three years before he made the fateful decision to attempt a sea crossing to Europe — initially said Western governments were responsible, having refused to accept them as asylum seekers.
Abdullah, who also lost his wife and Aylan's brother on the voyage, was himself accused of being the "captain" of the boat and a people-smuggler by other passengers.