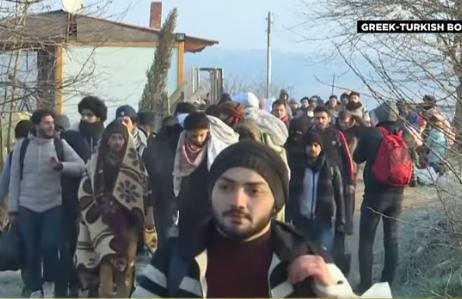 Turkish President Recep Tayyip Erdogan announced he would allow refugees staying in Turkey to enter Europe. The EU responded by pledging $780 million in aid to Greece to stop mass migration across its border. The EU accused Turkey of using the migrants as a tool to pressure Brussels to offer more money or support for Ankara's geopolitical aims in the Syrian conflict. Turkey is hosting about four million refugees and migrants that have reportedly destabilized the country the same way they've destabilized Europe, and Erdogan is desperate to remove them.
Fox News reported that the majority of migrants gathering at the border of Greece appeared to be from Afghanistan, and their travel appeared well organized with buses, cars, and taxis from Istanbul ferrying them to the border. Some of those who managed to cross said they were told by Turkish authorities to go to Greece and that the border was open.
Turkish President Recep Tayyip Erdogan thought that by sending tens of thousands of "crying refugees" to invade Greece it would cause Europeans to cave and throw open their borders as happened in 2015 — instead he ran into the army of Sparta.
Picture last night of Greek military posing with a Greek flag at the borders in #Evros in #Greece, protecting their borders with proud.
Local Greek residents have formed vigilante groups that help the border guards, police & army to catch groups of migrants that have managed to cross the border
The hand them over to the border guards who then push them back over the border to "no man's land"#GreeceUnderAttack
Additional source:
https://www.foxnews.com/world/clashes-greece-turkey-border-migrants-europe