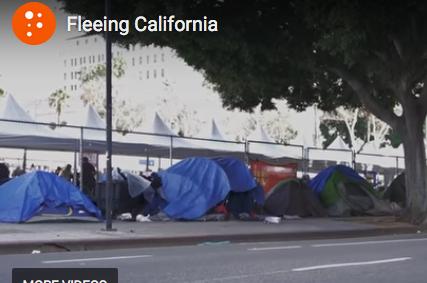 PragerU presents a short documentary that compares California's collectivist policies with the the individualist policies of Texas and shows that California's cost of living is 40% to 50% higher, its poverty rate is the highest in the US, and has 49% of the nation's homeless population. [Collectivists say they care about the common man but, because of their ignorance of human nature and economics, they are the common man's greatest enemy.] -GEG
A mini-documentary released Wednesday by PragerU highlights the mass exodus of Californians who are escaping the liberal state in search of jobs, homes and lower taxes.
PragerU's Will Witt gets to the bottom of how California was ruined by the left and what specific policies and regulations have crippled the once great state.
Meanwhile, Witt contrasts California's left-leaning policies with the great state of Texas' conservative agenda.
As citizens of The Golden State flee en masse, the majority of them head for The Lone Star State largely due to the substantial amount of jobs, the booming economy, rising wages, low taxes, low regulations and free enterprise.