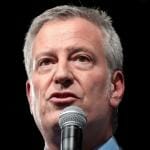 NYC Mayor Admits Bail Reform Responsible For City's Skyrocketing Crime Rates
Last Friday, New York City Mayor Bill de Blasio acknowledged the connection between the city's skyrocketing crime rate and the state's new bail laws that put all but the most violent offenders immediately back out on the streets. Shootings are up almost 29%, robberies are up 39%, transit crimes are up 30%, and auto thefts are up 72%. Only two of the seven major categories are down: murder decreased by 21% and rape is down 18%. Critics of the new bail laws point to many incidents of crimes committed by those who normally would have been imprisoned but were released back onto the streets. Pat Lynch, the president of the Patrolmen's Benevolent Association says the city is facing a public safety emergency caused by Mayor de Blasio's policies. -GEG
New York City Mayor Bill de Blasio has admitted a connection between bail reform laws and the city's crime rates.
New York, NY – New York City Mayor Bill de Blasio on Friday acknowledged the connection between the city's skyrocketing crime rate and the state's new bail reform laws that put all but the most violent offenders immediately back out on the streets.

De Blasio was a big supporter of passing the new law that did away with cash bail as of Jan. 1 but now he's found himself in the crosshairs after the result was exactly what law enforcement predicted, the New York Post reported.

He spent the first few weeks of 2020 dodging questions about the immediate effects of eliminating cash bail before he could no longer avoid the topic and admitted there was a problem.

But it's impossible to ignore the fact that shootings are up almost 29 percent, robberies are up almost 37 percent, and auto thefts are up by almost 72 percent, WCBS reported.

"We saw things emanating from this law starting [to] take effect months ago and obviously now it's in full effect. But the bottom line is, one, we've been 100 percent clear and we are unified on what we feel. Two, we want to act on this productively," de Blasio claimed a few days earlier. "We're in dialogue with leaders in Albany about those concerns, and we want to move forward. In the meantime, this police force can handle anything thrown at them."

But by Feb. 7, the optics were such that even the mayor had to admit defeat.

"We had, for six years, steady decreases in crime across the board. There's not a whole lot of other environmental things that have changed recently," the mayor said. "It sort of stands out like a sore thumb that this is the single biggest new thing in the equation and we saw an extraordinary jump."

"Of course there's always a possibility this is plain statistical variation, that happens sometimes," he added. "But I think it's pretty clear that there's only one new major piece in the equation."

De Blasio has said he supported giving judges more authority to hold offenders in jail if they are deemed a threat to the public, the New York Post reported.