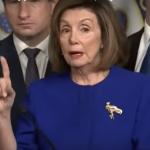 Trump's USMCA Trade Agreement Is a Big Win for Tech Giants Who Were Given the Right to Censor Internet Content
House Speaker Nancy Pelosi approved Trump's United States-Mexico-Canada Agreement (USMCA), claiming that she "lost" her fight to remove a provision granting big tech companies expanded legal immunity over censorship in the trade treaty that replaces NAFTA. There is no evidence, however, that there ever was a genuine fight over this in the first place. The new agreement allows tech companies to censor any content they consider 'objectionable' or 'harmful'. That means they are free to censor anything they don't like. Republicans have done nothing to secure free-speech online and now they actually support Big Tech censorship. -GEG
Big Tech is already celebrating.
From Breitbart, "Nancy Pelosi: 'I Lost'; Big Tech Legal Immunity Remains in USMCA":

House Speaker Nancy Pelosi (D-CA) said during a press conference Tuesday that she "lost" her fight to remove a provision granting big tech companies expanded immunity in the United States-Mexico-Canada Agreement (USMCA). Sen. Ted Cruz (R-TX) and Rep. Paul Gosar (R-AZ) told Breitbart News that they still have significant reservations over the immunity's inclusion in the trade deal.

Breitbart News reported last week that Pelosi expressed concern over the USMCA inclusion of language that is even broader than Section 230 of the Communications Decency Act. The provision, Article 19.17, would grant greater legal immunity for big tech companies to censor, or moderate, any content compared to Section 230 of the Communications Decency Act.
No doubt she fought tooth and nail to remove it!
[Senator Ted] Cruz said that "enshrining" big tech's legal immunity could force lawmakers to "either abandon efforts to hold big tech companies accountable, or revise Section 230 and put the United States in breach."