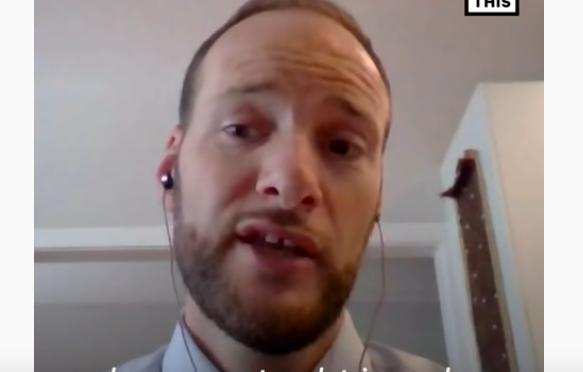 The parents of Chesa Boudin, San Francisco's new prosecuting District Attorney (DA), are David Gilbert and Kathy Boudin, the infamous Weather Underground Organization terrorists who went to prison for the murder of two police officers and a Brinks armored car guard. David Gilbert is still in prison, while Kathy Boudin won early release from prison, and, like many of her Weather Underground terrorist comrades, is a university professor. Chesa Boudin, 39, was raised by Weather Underground radical communists, Bill Ayers and Bernadine Dohrn, after his biological parents were sentenced to prison. Chesa Boudin is fully committed bringing communist revolution to America, and is following the Soros template for Criminal Justice Reform as he plans to close jails and eliminate cash bail. The cornerstone of his campaign is to sabotage immigration enforcement and to prosecute ICE and police officers for doing their jobs. Chesa Boudin's ties to Soros include his top financier, Chloe Cockburn, who hosted Soros's 2017 summit on the DA takeover strategy. The Tides Foundation & Brennan Center also backed Boudin.

Sandra Lee Fewer, a San Francisco Board of Supervisors member, while at an election party for Chesa Boudin, led a contemptuous chant against the San Francisco Police Officer's Association.
Socialist Bernie Sanders just endorsed the bleeding-heart candidate for San Francisco District Attorney who makes President Obama's Attorney General, Eric Holder, look like Sheriff Joe Arpaio.
Meet Chesa Boudin. He's the Bay Area public defender and former shill/translator for the late Venezuelan dictator Hugo Chavez who plans to turn the craphole of San Francisco into an even bigger sanctuary for the homeless, drug abusers, illegal immigrants, gangsters, vandals, thieves, recidivist criminals and cop-haters than it is already. Boudin leads a spooky field of left-lefter-leftists running for DA on the Nov. 5 ballot.
The cornerstone of Boudin's campaign is sabotaging immigration enforcement. He has called for prosecution and imprisonment of ICE and police officers for doing their jobs and vowed to create an "immigrant defense unit" within the DA's office to "stand up to Trump on immigration."
While American veterans beg for money on San Francisco's feces-clogged street corners, Boudin will instead subsidize "universal legal representation" for illegal immigrants facing deportation.
While American angel families are denied standing in American courts to sue the sanctuary outlaws whose policies enabled criminals in this country illegally to injure, rape or murder their loved ones, Boudin will "help every single immigrant victim of every crime obtain a U-Visa."
Boudin's campaign tagline claims he wants to build a criminal justice system "for everyone, not just the wealthy and well-connected." The chutzpah. It burns.
Well-connected? Boudin has been endorsed by a who's who of far-left celebrities, from Sanders to Hamas-linked "Women's March" co-founder Linda Sarsour to Black Lives Matter hate crime hoax propagandist Shaun King to radical Chicago DA and Jussie Smollett fixer Kim Foxx to Black Panther Party commie revolutionary Angela Davis.
Wealthy? Boudin is the top fundraiser in the San Francisco DA's race, raking in more than $623,000 in donations this year — a significant chunk from out-of-state academics, entertainment industry executives, and East Coast lawyers in New York and D.C. I discovered from Boudin's most recent campaign finance disclosures that one of his top donors is Chloe Cockburn. She is a prominent partner of globalist billionaire George Soros' Democracy Alliance. Cockburn moderated a crucial 2017 summit with Soros and other deep-pocketed liberal philanthropists to strategize on taking over local and state offices to reclaim "our progressive future." Other bigwig Boudin donors hail from the Soros-allied Tides Foundation and Soros-funded Brennan Center for Justice.
What makes Boudin especially toxic is his family tree. Boudin is the militant offspring of spoiled-rich radicals Kathy Boudin and David Gilbert, members of the violent Weather Underground terrorist group, which bombed government buildings and corporate headquarters, aided convicted felons in jailbreaks and participated in a 1981 Brink's armored car holdup in Nyack, New York, with the Black Liberation Army. That crime took the lives of three innocent Americans — police officers Edward O'Grady and Waverly Brown and private security guard Peter Paige.
Additional sources:
https://www.thenewamerican.com/usnews/crime/item/31688-son-of-weather-underground-terrorists-running-for-san-francisco-da-is-soros-funding-him
https://legalinsurrection.com/2019/11/san-francisco-socialist-son-of-imprisoned-weather-underground-terrorists-who-was-raised-by-bill-ayers-and-worked-for-hugo-chavez-elected-d-a/
https://defensemaven.io/bluelivesmatter/news/video-san-francisco-supervisor-leads-chant-of-f-k-the-police-union-EuWuuUq6c0O5Fqv92LTEJA/