Two Ohio Counties Receive $260-Million in Opioid Lawsuit Settlements from Drug Manufacturer and Distributors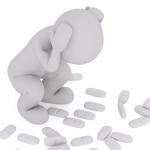 A $260-million settlement has been reached between Cuyahoga and Summit Counties in Ohio and Israeli drug manufacturer, Teva Pharmaceutical, plus three drug distributor including McKesson, Cardinal Health, and AmerisourceBergen. The settlement will allow the companies to avoid the 'discovery' process of a trial. The counties' cases were to be the first to go to trial among suits filed by more than 2,300 municipal and county governments from around the country. As usual, the money will go to the county governments, not to the drug victims. -GEG
For many years there's been a lot of finger pointing as to who is to blame for the "Opioid Crisis."
Some former American government employees and pharmaceutical executives have gone on the record and painted a very ugly picture of certain elected officials as well as The Food and Drug Administration (FDA).
Of course, the FDA rarely seems to get it right on anything, and the public always seems to pay the price for their bad judgement eventually (see 1, 2, 3, 4).
These recent drug company settlements obviously won't make up for all the harm that has been done.  But they will help.  From MedCityNews:
An 11th-hour settlement between two counties in Ohio and four companies will allow the latter to avoid a trial over the opioid crisis, according to a news report.

Citing attorneys, The Wall Street Journal reported Monday that Israeli drugmaker Teva Pharmaceutical Industries and the three largest drug distributors in the country – McKesson, Cardinal Health and AmerisourceBergen – had reached the $260 million settlement with Ohio's Cuyahoga and Summit counties, respectfully home to the cities of Cleveland and Akron. The judge reportedly said the trial against a fifth defendant, Walgreens Boots Alliance, would be postponed after that company failed to reach a deal.

It was reported last week that the three distributors were in talks to settle the litigation for $18 billion.

The two counties' cases were to be the first to go to trial among suits filed by more than 2,300 municipal, county and tribal governments from around the country that are part of the multi-district litigation. The case, known as MDL 2804, had been scheduled to start on Monday in the U.S. District Court for the Northern District of Ohio, with U.S. District Judge Dan Polster presiding.