Twitter Executive for the Middle East Is a British Army 'PsyOps' Soldier Using Technology to Control the Narrative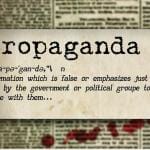 Gordon MacMillan, senior Twitter executive with editorial responsibility for the Middle East, is also a part-time officer in the British Army's psychological-warfare unit. He has served in the 77th Brigade, a unit formed in 2015 that uses social media platforms such as Twitter, Instagram, and Facebook to control the narrative in those platforms. Soldiers who have served with the unit say they have engaged in operations intended to change the behavior of the population. -GEG
The senior Twitter executive with editorial responsibility for the Middle East is also a part-time officer in the British Army's psychological warfare unit, Middle East Eye has established.
Gordon MacMillan, who joined the social media company's UK office six years ago, has for several years also served with the 77th Brigade, a unit formed in 2015 in order to develop "non-lethal" ways of waging war.
The 77th Brigade uses social media platforms such as Twitter, Instagram and Facebook, as well as podcasts, data analysis and audience research to wage what the head of the UK military, General Nick Carter, describes as "information warfare".
Carter says the 77th Brigade is giving the British military "the capability to compete in the war of narratives at the tactical level"; to shape perceptions of conflict. Some soldiers who have served with the unit say they have been engaged in operations intended to change the behaviour of target audiences.
What exactly MacMillan is doing with the unit is difficult to determine, however: he has declined to answer any questions about his role, as has Twitter and the UK's Ministry of Defence (MoD).
Twitter would say only that "we actively encourage all our employees to pursue external interests", while the MoD said that the 77th Brigade had no relationship with Twitter, other than using it for communication.