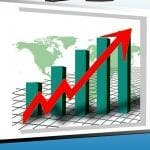 Repo Madness: Fed Pumps Overnight Bank Funds to $120-Billion a Day
The Federal Reserve Bank of New York says it will increase the size of its overnight short-term repurchase agreements, or repos, to $120-billion from the current $75-billion. In a repo, banks give bonds to the Treasury in exchange for cash with an agreement to buy them back the following day or shortly thereafter. They are the equivalent of overnight loans. The size of the loans have continually increased, and there is no end in sight. Because the loans are to be paid back to the Fed after a short period, they are said to not cause inflation. [However, if $120-billion loan one day is replaced by another $120-billion loan the next day, the result is that the constant money supply has been increased by that amount. Since the long-standing pattern is for the size of these loans to continually increase, the inflationary effect is undeniable.] -GEG
The Federal Reserve Bank of New York said Wednesday that it would increase the size of its overnight repo operations to $120 billion from the current $75 billion.
The Fed announcement came without explanation. Recent Fed offerings for the short term repurchase agreements, or repos, have been oversubscribed, meaning banks sought more liquidity than the Fed was prepared to provide.
On Tuesday, the Fed injected nearly $100 billion in combined overnight and slightly-longer term loans to banks.