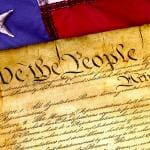 Two Students From the University of Connecticut Arrested on Hate-Speech Charges
Two men walking through a parking lot were recorded on a security camera making racial insults. This led to their arrest under a Connecticut statute that makes it a crime to "ridicule" anyone because of their creed, religion, color, denomination, nationality, or race. If convicted, the students could face 30 days in prison. Eugene Volokh, a law professor at UCLA, says the statute under which the men were charged is "obviously unconstitutional, because … there's no First Amendment exception for speech that insults based on race or religion." -GEG
Two University of Connecticut students were arrested Monday after video allegedly showed them using racial slurs.
The school confirmed to Campus Reform that the men were charged under a Connecticut statute that makes it a crime to "ridicule" certain people.
University of Connecticut Police arrested Monday two men who were allegedly seen in a viral video reciting a racial slur. 
The incident occurred on Oct. 11 in the parking lot of an off-campus apartment complex. In the video, there are three men walking through the lot. An individual took the video from the window of an apartment building, according to local media reports. 
"there's no First Amendment exception for speech that insults based on race or religion"   
The video prompted the UConn NAACP chapter to pen a letter to the editor of the campus newspaper, The Daily Campus, calling on officials "to fully investigate this incident and apply the proper justice." Following those calls, the university confirmed to Campus Reform Monday that two of the three men allegedly seen in the video were arrested under a Connecticut state statute that makes it a crime to "ridicule" certain persons. 
"Any person who, by his advertisement, ridicules or holds up to contempt any person or class of persons, on account of the creed, religion, color, denomination, nationality or race of such person or class of persons, shall be guilty of a class D misdemeanor," the statute states.
UConn spokeswoman Stephanie Reitz confirmed in a statement to Campus Reform the arrests of the men who were "heard shouting a racial slur."
"The two students both were charged under CGS 53-37, ridicule on account of creed, religion, color, denomination, nationality or race," Reitz said. "A third person had accompanied them as they walked outside of the apartments, but the police investigation determined that individual had not participated in the behavior."