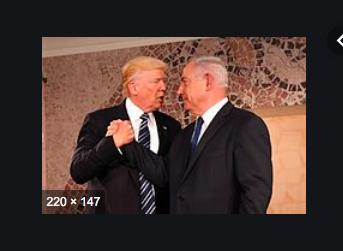 Trump tweeted that he is considering a military mutual-defense pact with Israel that would obligate the US to militarily defend Israel if it came under attack. Israel would also be obliged to defend the US, but Israel has few military resources that are not produced or funded by the US. [A hidden danger of such a pact is the temptation for Israel to stage a false-flag attack against itself to look like an attack by Iran in order to force the US into military action against an Israeli enemy.] -GEG
President Trump is exploring an expanded military alliance with Israel — days ahead of a crucial re-election bid for Prime Minister Benjamin Netanyahu.
Trump announced the possible pact in a pair of tweets just three days before Israel's national elections, set for Tuesday.
A mutual defense agreement "would further anchor the tremendous alliance between our two countries," Trump posted.
"I look forward to continuing those discussions after the Israeli Elections when we meet at the United Nations later this month!"
Under a mutual defense framework, allies agree to join each other's military efforts when one side comes under attack. The U.S. maintains several such agreements — with the members of NATO and with Japan, for example — but has no such formal treaty with Israel.