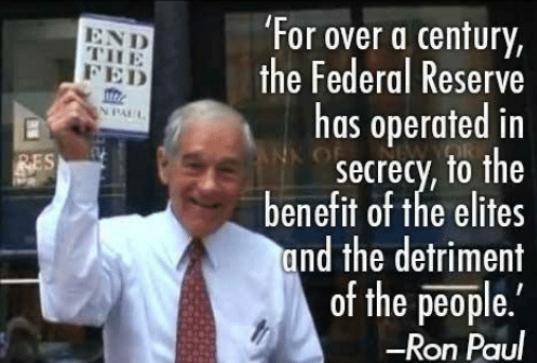 Dudley wrote that the Fed should refrain from bailing out Trump on the economy and the trade war with China. Otherwise, he warns, the country risks re-electing the president in 2020. [We agree that the Fed should not bail out the Trump administration – but that's because we don't think it should bail out any administration. When we approve of the Fed doing this because we like or dislike the current President, we endorse the idea that the Fed has and should exercise such power. In other words, we validate the power. A very bad idea.] GEG
Imagine an organization that can grow an economy as fast it can destroy it. This institution can make presidents kings and then transform them into court jesters. The smartest men in a room situated on 2051 Constitution Ave can choose to increase the value of money in your wallet or make it worth less than single-ply generic brand toilet paper.
Well, this is not a fictitious body found in a dystopian novel. It is right here in the real world. It is the Federal Reserve System. Cue The Twilight Zonetheme song.
Burning Down Trump White House
Former New York Fed Bank President William Dudley recently penned a scathing op-ed on Bloomberg News titled "The Fed Shouldn't Enable Donald Trump." Dudley wrote that the central bank should refrain from bailing out Trump on the economy. He believes that the Eccles Building must cease enabling the administration by accommodating policy to Trump's whims, otherwise, he warns, the country risks re-electing the president next year.
Dudley, who served as NYFRB head from 2009 to 2018, stated that his former employer needs to avoid coming to the president's aid in his trade war with China. The tit-for-tat dispute has escalated over the last month, though both sides are ostensibly returning to the negotiating table. He explained that the Fed needs to send a clear message that it is Trump, not the Fed, bearing the risks and responsibility of the prolonged trade spat.
But the biggest revelation in Dudley's piece is how far some people would go to stop Trump earning a second term.
"After all, Trump's reelection arguably presents a threat to the U.S. and global economy, to the Fed's independence and its ability to achieve its employment and inflation objectives. If the goal of monetary policy is to achieve the best long-term economic outcome, then Fed officials should consider how their decisions will affect the political outcome in 2020."
This essentially hints that Fed monetary policy can pick US presidents.