Tens of Thousands of Unopened Bottles of Water Supplies for Puerto Rico Hurricane Victims Was Discovered Rotting in a Field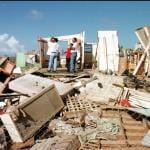 Hurricanes Maria and Irma struck Puerto Rico in September 2017, resulting in the deaths of 3,000 people. Nearly two years after the disaster, tens of thousands of plastic bottles of water on pallets were discovered in a field. FEMA says the bottles were delivered in 2017 and turned over to the "central government." It is unclear why the water was abandoned and who is responsible for failing to distribute it to those who needed it. Last month, prosecutors charged six former officials of the Puerto Rican government with embezzling $15-million in hurricane reconstruction money. A local told CBS News "that the government hid those packages [of water] from the people," adding that many were forced to purchase overpriced water from stores in the wake of the storms. Many people died of dehydration and disease from polluted water in the hurricane's aftermath.
Last year, there was a similar case of wasted water in Puerto Rico: CNN reported that 20,000 pallets holding 38-million bottles of water were discovered to have been stored, instead of distributed. FEMA reported it delivered the water but it was up to Puerto Rican officials to distribute it. Officials said they received too much water too late, and there was a surplus that they would return, even though there was still a need for clean water.
Here is the story from last year about 38 million bottles of water that was stored, instead of distributed to victims, as broadcast September 12, 2018:
Current article about more water discovered to have been wasted instead of distributed to hurricane victims in need:
Tens of thousands of water bottles meant for the people of Puerto Rico after a pair of hurricanes hit the island in 2017 are sitting unopened on farmland near the city of San Juan nearly two years after the disasters.
Photographs of the water bottles emerged this week after international news agency AFP captured
aerial images of the bottles on what appeared to be a private estate 25
miles west of San Juan. Some of the images showed broken pallets with
the bottles.
A spokesman from the Federal Emergency Management
Agency (FEMA) confirmed to AFP that the water bottles had been provided
as part of relief for Hurricane Maria, which hit the island in September
2017.
The water was expired and it was assumed that the bottles
are being disposed of, AFP reported. It said the spokesman declined to
say exactly how many water bottles there were, how long they were on the
farm and why they were permitted to expire.
The matters were "under review by the legal department," the spokesman said.
Additional source:
https://www.rt.com/usa/465500-puerto-rico-thousands-water-bottles/