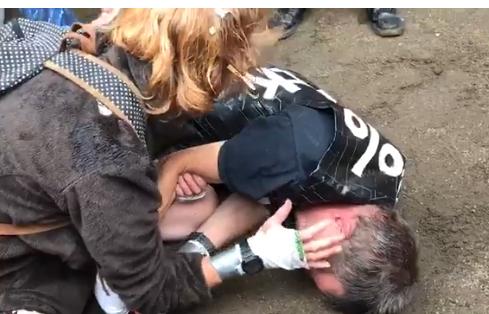 About 400 members of right-wing groups, including the Proud Boys, marched on Portland to protest the city's inaction in the wake of an Antifa attack on conservative journalist Andy Ngo on June 29. Ngo was hospitalized with a brain hemorrhage. President Trump is considering designating Antifa as a terrorist group. Ngo documented the violence by Antifa in Portland over the weekend in videos and commentary on Twitter, including this account of an assault: "A middle-age man was maced and beaten by an antifa mob. He was knocked unconscious to the ground. His partner or spouse was trying to protect him as mob still surrounded them. No police." -GEG
Hundreds of far-right protesters were met by crowds of antifa, or anti-fascist, counter-demonstrators in Portland, Ore., Saturday, as President Trump singled out the latter for possible designation as a terrorist organization.
Confrontations between the two sides resulted in at least 13 arrests, according to Oregonlive.com.
Demonstrators in black clothing and with masks on their faces — a common antifa mode of dress — smashed windows of at least one shuttle bus carrying the far-right protesters, the news site reported.
Account of events by journalist Andy Ngo on Twitter: