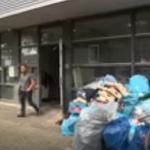 Amsterdam: Businessman Returns From Vacation to Find His Property Occupied by 40 Asylum Seekers
Amsterdam: Entrepreneur, Salih Ozcan, upon is return from a holiday, was expelled from his own newly-refurbished building by migrant squatters from Africa who had trashed the place. Police did not respond to his request to clear the building and refused to comment but did say they would not be treating the matter as urgent.
A businessman in Amsterdam returned from vacation to find his property occupied by 40 refused asylum seekers who told him to leave.
According to a report by AT5, entrepreneur Salih Ozcan was "expelled from (his) own premises" by the migrant squatters after returning from holiday.
After recovering his property from a "bad tenant" who used it as a weed factory in January, Ozcan had refurbished the site and planned to use it for his car company.
He was shocked to discover it had been occupied by 40 failed asylum seekers who had completely trashed the place.
Referring to the piles of trash at the entrance, Ozcan said the scene was too "crazy for words," adding, "Only rats and mice come here."
A video shows angry African migrants confronting both Ozcan and the camera crew from the TV station. The migrants threatened to call the police if they didn't leave immediately.