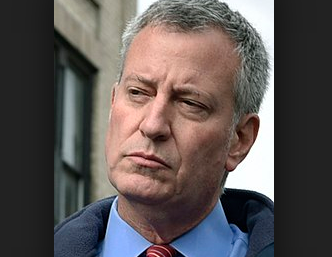 Democrat NY City Mayor Bill de Blasio expanded the Supervised Release Program that is set to triple the number of teens that will be released from the city's jails without paying bail as they await trial. This includes teens charged with violent crimes such as armed robbery or assault with a deadly weapon. It is certain that releasing young criminals without bail will cause an increase in crime. De Blasio's new policies went into effect on June 1st. -GEG
Big Apple Mayor Bill de Blasio wants to "more than triple" the number of teens released from jail without being required to pay bail despite being charged with crimes as serious as armed robbery.
The new rules also "significantly" expand the categories of adult suspects who will qualify for de Blasio's "no bail" release program, according to the New York Post.
The guidelines released to the city's judicial branch will take effect on June one and increases the age for de Blasio's Youth Engagement Track program from a ceiling of 17 years of age to 19.
Initially, the program covered suspects in misdemeanor offenses or nonviolent felonies, but will now include first- and second-degree robbery, assault, and burglary. So, de Blasio has gone from covering only nonviolent offenders to offering his free release program to suspects charged with using a deadly weapon in a crime.
"Based on 2017 bail numbers for the affected ages and charges, these changes should more than triple the number of defendants eligible for the Youth Engagement Track," Miriam Popper, executive director of diversion initiatives for the Mayor's Office of Criminal Justice, said in a memo from City Hall.
The program ostensibly tracks teens released without bail.
Teens who are part of the program get "placed on an intensive supervision schedule in the first month" and must also undergo psychological counseling known as cognitive behavioral therapy, the memo says.

For adults, the program "tailors requirements to the individual participants," according to the website for the Mayor's Office of Criminal Justice.
However, with a "tripling" of those needing to be tracked and no corresponding growth in probation officers tasked with the tracking, it would seem that many violent felons could fall through the cracks.