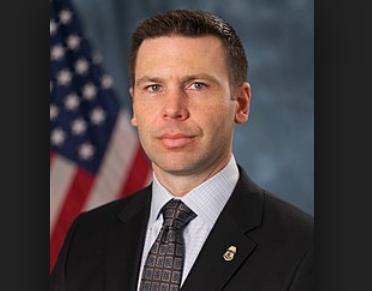 Acting Homeland Security Secretary Kevin McAleenan has been accused of sabotage by current and former senior Trump administration officials for allegedly leaking a plan by the White House for Immigration and Customs Enforcement (ICE) to arrest thousands of migrant families who have been denied asylum in ten major cities. The Washington Post broke the story about the raids after McAleenan traveled with the author of the Post report, Nick Miroff, on a government plane down to the border last week. Former ICE head Thomas Homan said that the leak endangered the safety of ICE law enforcement officers. Trump tweeted that he is delaying the deportations for two weeks, at the request of the Democrats, to give the lawmakers a chance to close the asylum loopholes.
President Donald Trump announced Saturday afternoon he has "delayed" a scheduled ICE deportation action "at the request of Democrats," though his own acting DHS head Kevin McAleenan is being accused of leaking raid locations to the Washington Post and directly sabotaging the effort.

From The Daily Mail, "Trump now says he will delay deportation raids for two weeks":

President Donald Trump has said that he is delaying planned enforcement actions by Immigration and Customs Enforcement to remove thousands of illegal immigrants who have court orders for deportation.

'At the request of Democrats, I have delayed the Illegal Immigration Removal Process (Deportation) for two weeks to see if the Democrats and Republicans can get together and work out a solution to the Asylum and Loophole problems at the Southern Border. If not, Deportations start!' Trump said in a tweet on Saturday afternoon.
Enforcement raids had been scheduled to begin at dawn on Sunday in at least 10 major cities, drawing furious protests from local Democrat officials who vowed to fight the deportations.

Trump had been adamant that the raids would go forward as recently as Saturday morning, and his stunning reversal on the ICE raids comes amid a tumultuous week in which it was revealed that he pulled back on a planned strike against Iran at the last minute after learning the casualty projections.
As a reminder, Trump on Monday announced before launching his reelection campaign that ICE will be deporting "millions" come "next week" and tipped illegals and their Democrat and Republican abettors off to the upcoming effort.
As Politico noted, Trump's tweet "was a departure from ICE's normal practice of keeping enforcement operations closely held until they've been executed."

On Friday the story changed to ICE is going to deport "2,000" illegal aliens with weak-as-hell DHS Sec. Kevin McAleenan saying they'd be done in the nicest and most limited way possible.
Additional Source – Washington Examiner:
https://www.washingtonexaminer.com/news/officials-accuse-dhs-chief-kevin-mcaleenan-of-leaking-ice-raids-plan-to-sabotage-operation