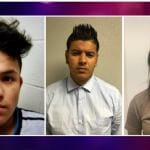 Maryland: MS-13 Gang Members Who Murdered a 14-Year Old Girl Were Protected By Sanctuary Policies
Maryland: A 14-year old girl, Ariana Funes-Diaz, who participated in the kidnapping and robbery of man in April, was herself murdered with a machete by her cohorts who feared she would snitch on them, according to police. Three teen suspects were arrested for murder in this case and will be tried as adults. St. George's County had two of them, believed to be MS-13 gang members, in custody for attempted murder in a separate case last year but, because St. George's County is a sanctuary county, authorities released the suspects back into the public. -GEG
Immigration and Customs Enforcement (ICE) is searching for two illegal immigrants who are also murder suspects.
ICE sent out a release on Tuesday stating
they are looking for Josue Rafael Fuentes-Ponce and Joel Ernesto
Escobar. The pair was reportedly released by local authorities in
Prince George County in Maryland.
"Following the recent arrest of two
unlawfully present teens suspected in the violent murder of a young girl
in Maryland, U.S. Immigration and Customs Enforcement (ICE) Enforcement
and Removal Operations (ERO) officers in Baltimore are again seeking to
take custody of the illegal aliens through the ICE detainer process
following the Prince George's County Detention Center's (PGCDC) failure
to cooperate," ICE wrote in a release.
The two suspects were arrested on May
18, 2018 for attempted first-degree murder, attempted second-degree
murder, participating in gang activity, conspiracy to commit murder,
attempted robbery, and other related charges. ICE is reporting federal
officers lodged a detainer with the Prince George's County Detention
Center. They were arrested again on May 16 for first-degree murder.
However, both were released on an unknown date and time without
notification to ICE, according to ICE. The Prince George County Police
Department arrested the teens and believe both Fuentes-Ponce and
Escobar are members of a gang.
"As law enforcement officers, we must
continue to serve and protect the American public and act in the
interest of public safety first," said Baltimore Field Office Director
Diane Witte. "These individuals had demonstrated violent criminal
behavior before, and because they were released in spite of the lawful
detainer, they were afforded an opportunity to take a life."