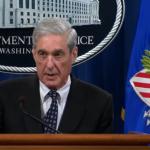 Robert Mueller Says He Could Not Charge Trump While He Is President, So Democrats' Now Call for Impeachment
Special counsel Robert Mueller gave a speech before he resigned from his two-year investigation into President Trump, saying that a Justice Department ruling prevented him from charging the President with a federal crime while he is in office. The Special Counsel's report and his statement concluded that his office could not reach a determination about whether the President committed a crime. Mueller refused to testify in front of Congress, saying that the report is his testimony.
A host of 2020 Democratic presidential candidates are calling for impeachment. House Speaker Nancy Pelosi and Judiciary Committee Chairman Jerrold Nadler, are the lawmakers who would actually spearhead an inquiry, and they say they will continue their investigations. -GEG
Special counsel Robert Mueller delivered a valedictory statement Wednesday before he resigned from his two-year investigation into President Trump, saying he could not exonerate the president of criminal wrongdoing.
Though he'd said as much in his 448-page report, hearing it from the mouth of the man who spent two years investigating Mr. Trump was a dam-break moment for many Democrats on Capitol Hill and on the 2020 presidential campaign trail, who said Mr. Mueller's statement was an invitation to begin impeachment proceedings against Mr. Trump.
In a nine-minute statement from the Justice Department's headquarters in Washington Mr. Mueller
said his work was done, he was shutting down the special counsel's
office and would resist calls to testify to Congress or speak publicly,
saying his 448-page report spoke for itself.
But it was his summary that rekindled the impeachment fire for many Democrats.
"If we had confidence that the president clearly did not commit a crime, we would have said so," Mr. Mueller said. "We did not, however, make a determination as to whether the president did commit a crime."
---
---
He also signaled that he didn't bring charges against Mr. Trump because of longstanding Justice Department policy that a sitting president cannot be charged.
Yet he did make such a determination on one
aspect of his investigation, saying there was "insufficient evidence" to
conclude the president or his team conspired with Russia
to subvert the 2016 election. But when it came to whether the president
obstructed justice in trying to stymy investigations into the election,
Mr. Mueller said they didn't attempt to reach a conclusion because of the department's policy.
"We concluded that we would not reach a
determination, one way or the other, about whether the president
committed a crime," he said.
The seemingly contradictory statements fueled
diametrically opposed reactions from the president's supporters and his
political opponents.