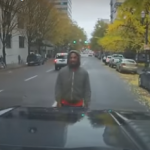 Judge Drops Charges Against Motorist Who Drove through Black Lives Matter Protesters Blocking Traffic
su_note note_color="#efe1a7″ text_color="#00000″ radius="5"]Portland, Oregon: Black Lives Matter demonstrators blocked traffic while protesting in the streets late last year following the grand jury determination that officers were justified in shooting Patrick Kimmons, an armed black man who ran toward the police with a gun. A driver, Mark Alan Dickerson, was trying to pass through the line of protesters as they beat on his truck, and one of them leaned back into his slow-moving car and was struck by the vehicle. The "victim," Arthuray Dudley, again put himself in the path of the vehicle, and was struck a second time. Dickerson was arrested for assault, reckless endangerment, and reckless driving. Judge Walker, a black man, dropped the charges against driver Dickerson because Arthuray Dudley was unable to stay in court all day and the case collapsed.[/su_note]
Charges have been dismissed against a man in Portland who drove through black lives matter protesters this past October.
The driver, Mark Alan Dickerson, had been charged with "reckless
driving" and "harassment" after he slowly drove toward a small group of
people who were protesting a grand jury's return of no true bill against police officers who shot Patrick Kimmons,
who was seen by officers opening fire in a parking lot, then running
toward officers with the gun in his hand. Multnomah County Judge Kenneth
Walker dismissed the misdemeanor charges against Dickerson, because the
alleged victim, Arthuray Dudley, couldn't appear in court to testify.
Additional source:
https://www.oregonlive.com/portland/2018/10/police_release_videos_of_offic.html