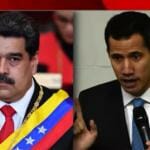 Venezuela Suffers major Power Outages After Alleged Cyber Attack
An blackout has covered most of Venezuela over the past several days after the country's main electricity generator, the Guri Dam, failed. The Maduro administration alleges that the failure was due to cyber attacks and pointed the finger at the US government that has called for Maduro's ouster. Venezuela's Communications Minister reported that a cyberattack had taken place against the dam's computerized system forcing its turbines to stop. Venezuela intends to present evidence of the attack to the United Nations Human Rights Commission and to other international bodies. Meanwhile, US-backed "Interim President" Juan Guaido is using the crisis to call for the armed forces to back his efforts in ousting the Maduro government and tweeted, "electricity will return once the usurpation ends."
Caracas, March 10, 2019 (venezuelanalysis.com)
– An electricity blackout has affected most of Venezuela for several
days after an alleged cyber attack crashed the country's main
electricity generator, the Simon Bolivar Hydroelectric Plant in Bolivar
State, commonly known as the Guri Dam.
Starting around 5 PM on Thursday, the outage affected 70 percent of
the country, with only several eastern states unaffected. By Saturday
morning, power had been restored to most of Caracas and to central
states such as Miranda, Aragua and Carabobo, when a second major outage
took place as a result of a renewed cyberattack, according to Venezuelan
authorities.
As of Sunday evening, power has been restored to most of the capital
and to parts of the western states of Tachira and Barinas. According to
on the ground testimonies on social media, various other states,
including Merida and Zulia, have not had power since Thursday.
On Saturday, President Maduro told crowds at the end of a
pro-government rally that a large scale attack against the country's
electric infrastructure had taken place on Thursday afternoon. He
pointed the finger at the US, stressing the high level of sophistication
of the alleged aggression and adding that efforts to restore power were
set back by a new cyber attack on Saturday morning.
Maduro announced that he was ordering a massive distribution of food
and drinkable water starting Monday, as well as efforts to secure the
normal functioning of hospitals. Water Minister Evelyn Vazquez announced
on Sunday that water tanks were being deployed while the water pumping
system was getting up to speed.
On Friday, Communications Minister Jorge Rodriguez told press that a
cyberattack had taken place against the "Ardas" computerized system of
the Guri Dam, targeting 3 of the 5 generators and forcing the dam's
turbines to stop. He added that Venezuela would present evidence of the
attack to the United Nations Human Rights Commission and to other
international bodies.