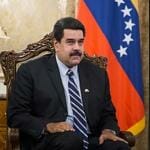 Trump Regime Launches Coup in Venezuela. Deep State Smiles as Globalism Grows.
This video commentary by James Corbett and Daniel McAdams is an excellent analysis of current US support of a coup in Venezuela. The insight that makes it valuable is that, although we may oppose socialism or any other variety of collectivism, and although we may desire to help the suffering people in Venezuela escape socialism, poverty, and corruption, we do not serve those objectives by interfering in the internal affairs of other governments, assassinating opposition leaders, organizing riots and revolutions, and installing puppet leaders whose only goal is power and wealth. I highly recommend this short video. -GEG
The plan will likely require military force and is supported by both the Democrats and Republicans. The US choice for a puppet leader, Juan Guaidó, is not very popular. A recent poll of Venezuelans shows that more than 80% of the people are against sanctions and other international interventions to remove President Maduro. Coup plotters have rejected talks with Maduro and his team.