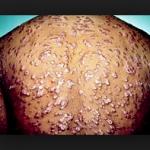 Rockefeller, Johns Hopkins, and Bristol Meyers Sqibb Sued for $1-Billion for Intentionally Infecting People with Syphilis
A federal judge approved a $1-billion lawsuit against Johns Hopkins University, Bristol-Myers Squibb Co. and the Rockefeller Foundation for intentionally infecting victims with syphilis during government experiments in Guatemala during the 1940s. The test subjects in the experiments were mainly children, orphans, patients from mental hospitals, and inmates, and most were never treated. The horrific studies remained a secret until 2010 when Dr. Susan Reverby of Wellesley College uncovered details of the experiment. -GEG
A federal judge recently approved a $1 billion lawsuit against Johns
Hopkins University, Bristol-Myers Squibb Co (BMY.N) and the Rockefeller
Foundation. The lawsuit is seeking restitution for victims who were
intentionally infected with syphilis during government experiments in
Guatemala during the 1940s.
Hundreds of Guatemalans were reportedly infected with syphilis during
the studies, which were designed to test the ability of penicillin to
treat sexually transmitted diseases. The lawsuit was pending and waiting
in limbo for the past four years until it was finally approved by U.S.
District Judge Theodore Chuang last month. In 2015, when the lawsuit was
originally filed, there were 750 victims seeking restitution, now there
are only 444 plaintiffs and some remaining relatives.
The test subjects in the experiments were mainly children, orphans, patients from mental hospitals and inmates.
The horrific studies remained a secret until 2010 when Dr. Susan
Reverby of Wellesley College in Massachusetts uncovered details of the
experiment, forcing a formal apology from then President Barack Obama.
Reverby learned of the experiments after the death of John Charles
Cutler, one of the lead researchers in the study. Cutler left behind a
stack of files which contained details of the barbaric experiments.