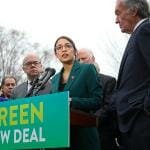 Agenda 21 Alert! Mayor Eric Garcetti Declares Green New Deal in Los Angeles, City to Turn Off the Lights
Agenda 21 is the United Nations strategy to fight global warming at the local level while Agenda 2030 is the UN strategy for fighting climate change at the national and international levels. The introduction of the Green New Deal (GND) is a major attempt at implementing Agenda 2030 in the United States. Commentator Gary Gileno says that Alexandria Ocasio-Cortez, a young attractive millennial, was placed in office to sell the GND to other millennials. The GND is the implementation of 'sustainability' across America  that is artificial scarcity under the guise of conservation, it is a behavioral modification scheme under social engineering and at its core, it is a system of rationing, with less food, water, energy, mobility, choice, freedom, and space. 
Los Angeles Mayor Eric Garcetti, in support of the Green New Deal, announced that Los Angeles will abandon plans to rebuild three natural gas plants, despite concerns the city will suffer acute power shortages.  He is enacting Agenda 2030, where people will live in the dark and under water rationing, in addition to the termination of travel by cars and planes. Population control is the goal.
Additional source: https://www.breitbart.com/politics/2019/02/11/mayor-eric-garcetti-declares-green-new-deal-in-l-a-cancels-natural-gas-officials-doubt-keeping-the-lights-on/