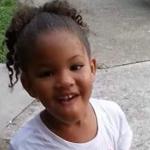 White Man Falsely Accused in Shooting Death of 7-Year Old Black Girl
Houston, Texas: LaPorsha Washington, with her daughters, was driving on a highway at 6:50 AM when someone in another vehicle shot shot and killed her 7-year old daughter Jazmine Barnes. LaPorsha and one of her other daughters said that a white man driving a red truck was the shooter. This immediately sparked media accusations that the shooting was a white-on-black hate crime. However, it was determined that two black men were likely responsible for the crime. Even now, mainstream media is failing to report that Ms. Washington has a
criminal record
including three felony-thefts, two drug charges, and was charged with hiding a felon wanted for robbery. In 2008, a female victim who was robbed by Washington said she had a gun and threatened to shoot her. Eric Black, one of the suspects that was arrested for the brutal murder of the child, is thought to be the same Eric Black who says on Facebook that he is a Crip gang member and a "friend" of Washington. As an interesting aside, Black Lives Matter activist, Shaun King, who offered a $100,000 reward for information leading to the arrest of the girl's killer, appeared to be still pushing the white-supremacist narrative even after it was known that the killer was black. -GEG
The investigation into the shooting of a 7-year-old girl in Houston, Texas that civil rights activists and left-wing media sites asserted was a white supremacist hate crime took an unexpected turn when it was revealed that the gunman was a 24-year-old black man.
Jazmine Barnes was killed in the back of her mother's vehicle after the family were fired upon on the East Sam Houston Parkway feeder road near Wallisville Road at approximately 6:50 a.m. last Sunday.
Jazmine's sister described the shooter as a "bearded white man in his 40s wearing a red hoodie," setting off a media narrative that the murder was a racist hate crime.
Police subsequently released a sketch asserting that the suspect was a white man in his 30s or 40s.

Black Lives Matter activist Shaun King also offered up a $100,000 reward for information leading to an arrest and arranged a rally to call for justice.
Community activist Deric Muhammad claimed that the murder proved black people were being indiscriminately targeted by racist whites.
"Black people are being targeted in this country, black people are being targeted in this county, black people are being targeted in this city. So we are thoroughly convinced that the killing of Jazmine Barnes was race related, we believe that there is a white supremacist element in that area that needs to be trotted out, found and brought to justice," he said.
Left-wing news outlets like Vox breathlessly reported the claims without question, asserting that "Jazmine Barnes was killed when a white man fired into her family's car."
Time Magazine also reported the assertion of the family's attorney Lee Merritt that the murder was a racist shooting, while the Washington Post amplified his demand that, "We want to emphasize the racial nature of the attack and that hate-crime charges are appropriate."
However, it now emerges that the gunman was black.
Additional Sources:
LaPorsha Washington: 5 Fast Facts You Need to Know
https://www.infowars.com/young-turks-delete-multiple-videos-after-claiming-black-shooter-was-white-supremacist-motivated-by-trump/