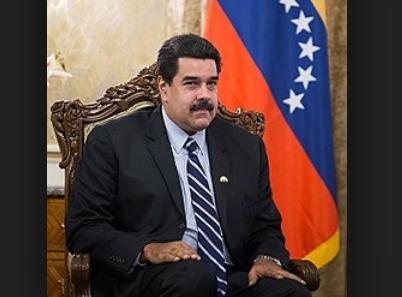 Venezuela: Maduro is accused of having at least 14 people killed over the past three days and sending troops door-to-door to find individuals suspected of having participated in the recent anti-government protests. An estimated 200 people have been arrested without warrants. -GEG
The socialist dictatorship in Venezuela has killed at least 14 people and potentially closer to 20 since widespread protests broke out this week, culminating in the swearing in of President Juan Guaidó, replacing dictator Nicolás Maduro.
An NGO that tracks human rights violations in the country also confirmed over 200 arrests since Wednesday's protests began, some the product of Maduro sending Bolivarian National Guard troops door-to-door to find individuals suspected of having participated in the protests and detaining them without warrants.
Citing the NGO Provea, the regional news agency NTN24 reported Thursday that Maduro's forces had killed a confirmed 14 people nationwide in the past three days. While the leaders of the Venezuelan opposition organized their official protest for Wednesday, many dissidents organized smaller anti-Maduro protests to galvanize opponents of the regime throughout the week. Most of the deaths recorded were at gunpoint at the hands of law enforcement or the military.
The victims known to Provea were between the ages of 19 and 47, though most were in their 20s; only one was a woman.
Other groups have tallied known deaths and gotten different numbers. Opposition leader María Corina Machado said late Wednesday she had received confirmation of 17 deaths, "dozens injured and over 70 imprisoned." The Interamerican Commission on Human Rights, which operates under the Organization of American States (OAS), tallied at least 16 deaths by Thursday morning.
The number of arrests also varies. The Venezuelan Penal Forum, an NGO that tracks politically-motivated arrests in the country, said Thursday it could confirm the detention of 278 people since Monday. The group found that 175 of these arrests occurred on Wednesday, while the rest occurred in anticipation of the protests, adding the caveat that they had many more reports of arrests and killings but these were the only ones they could solidly confirm occurred.
Venezuelans with access to social media used their platforms to spread videos and images of attacks on unarmed dissidents. One video, verified by the Venezuelan newspaper El Nacional, showed the body of a young man shot to death in Barinas state (warning: graphic images):
pic.twitter.com/Rygy8MmmsZ URGENTE!!!!!! #23Ene BARINAS: BRUTAL ATAQUE DE ESBIRROS ASESINOS, MALANDROS y ESCLAVOS de la narcodictadura contra EL PUEBLO!!! Se habla de 4 muertos. REPRESIÓN BRUTAL!!! 83 11:42 AM – Jan 23, 2019 643 people are talking about this