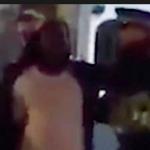 UK Authorities and Media Cover Up Motive of Islamic Stabbing Suspect Who Yelled "Allahu Akbar" and 'Long Live the Caliphate"
Manchester, UK: An Islamic terrorist stabbed three people on New Years Eve while yelling 'Allahu Akbar' and "Long live the Caliphate". The Muslim Council of Britain, however, says the motive was 'unclear'. Police agreed and said they were keeping 'an open mind' about the motive. Sky News reported on the stabbing without mentioning what eyewitnesses heard and what the terrorist himself is heard saying on camera. -GEG
An Islamic terrorist stabbed three people in Manchester, UK last night before screaming "Allahu Akbar" and "Long live the Caliphate," prompting a major Muslim group in the UK to assert that the motive behind the attack was "unclear".
Wielding a 12 inch knife, the terrorist stabbed two members of the public and a police officer at Manchester's Victoria station just before 9pm last night as revelers prepared to celebrate New Year's Eve.
Witness Sam Clack said he heard the terrorist shouting "Allah" and "As long as you keep bombing other countries this sort of shit is going to keep happening" before and during the attack.
In a video of the suspect being arrested by police, he is also clearly heard to say "Allahu Akbar" and "long live the Caliphate".