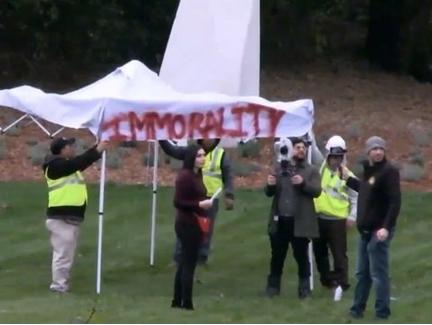 Napa Valley, California: An activist group led by Laura Loomer stepped over the wall surrounding House Speaker Nancy Pelosi's California mansion and demanded access to her home. A small group of Guatemalans put up a tent with the word 'immorality' printed on it. Photos of people who have been murdered by illegal aliens were attached to the tent. A Daily Caller reporter went to the home of George Soros and found a wall surrounding his beachfront property. The reporter was unable to check on whether Obama has a wall, because the street where his home is located is blocked bu concrete and metal barricades. The Secret Service is preventing the public from walking on the sidewalk to Obama's house. [Sure sounds like the equivalent of a wall.] -GEG
Welcome to Casa de Nancy!
Laura Loomer and a group of illegal aliens showed up to Nancy Pelosi's Napa Valley, CA lawn and set up a sanctuary camp on Monday.
House Speaker Nancy Pelosi (D-CA) wants open borders so certainly she will welcome the new squatters!
This is hilarious.
Loomer and gang set up a canopy on Pelosi's lawn with the word "Immorality" emblazoned in red letters.
Pelosi regularly says walls are 'immoral' when arguing against President Trump's proposals for stronger border security which includes a wall.
The government shutdown has entered week three, the longest in US history because Schumer and Pelosi refuse to compromise on border wall funding.
Loomer and her illegal alien friends were chanting "Everyone is welcome here!"
Live Stream video via Unite America First:
Update: Loomer actually brought illegal immigrants from Guatemala and Mexico to Pelosi's house, they are not actors.
Additional source:
https://dailycaller.com/2019/01/14/activists-pelosi-mansion-wall/