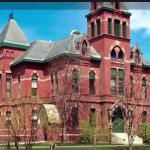 The University of Southern Maine Offered Course Credit to Students to Pressure Senator Collins into Voting Against Kavanaugh
The taxpayer-funded University of Southern Maine offered one credit to students for traveling to Washington, DC to harass Republican Senator Susan Collins, who is a swing vote in the Kavanaugh confirmation. According to the Maine Republican Party Facebook page, students were to leave on buses on Wednesday night, spend two nights on the bus, and return Friday morning. The credit was only offered to students opposing Kavanaugh, and an extra $50 was offered in case of arrest. The course reportedly was canceled after an uproar from taxpayers and citizens.
The University of Southern Maine if offering credit hours to students if they travel to Washington DC and harass Senator Susan Collins in the hallways and elevator.
Students will receive one credit hour for their political action.
Via The Maine Republican Party Facebook page.

However there's a catch.
Only anti-Kavanaugh protesters will be rewarded the extra credit hour.
Pro-Kavanaugh students need not apply.
Your tax dollars are funding this.