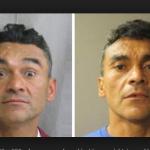 Illegal Alien from El Salvador Who Was Deported Six Times, Is Accused of Killing Three Men after Fleeing to the Sanctuary State of California
Los Angeles: Ramon Escobar, a 47-year-old illegal alien from El Salvador, is accused of attacking seven people, leaving three of them dead. Another victim, who Ramon beat with a baseball bat, is in a coma.  Escobar is accused of attacking the homeless victims while they were sleeping.  Escobar fled to the sanctuary state of California, which protects illegal aliens from arrest and deportation, after being questioned last month in Houston, Texas, about the disappearance of several of his relatives. -GEG
A six-time deported illegal alien accused of beating and killing three men across seven separate attacks has been arrested and charged with murder.
Ramon Escobar, a 47-year-old illegal alien from El Salvador, was arrested this week in Santa Monica, California after he allegedly attacked seven people, in total, leaving three of them to ultimately die because of the alleged attacks, CBS Los Angeles reports.
One of the remaining victims of the illegal alien's alleged attacks — where he allegedly used a baseball bat to beat his victims relentlessly — is still in a coma.
The illegal alien allegedly attacked three men in downtown Los Angeles on September 16. Escobar is also accused of attacking a homeless man on a Santa Monica beach on September 8, attacking another man on a Santa Monica beach on Sept 10, and of the deadly beating of 39-year-old Steven Cruze Jr. on the Santa Monica Pier. Cruze Jr. died from the injuries of the attack.
Cruze leaves behind two children. A GoFundMe has been set up by Cruze's children to pay for his funeral expenses.
Additional source:
http://www.laist.com/2018/09/25/heres_what_we_know_about_ramon_escobar_the_man_accused_of_brutal_murders_in_la_and_santa_monica.php