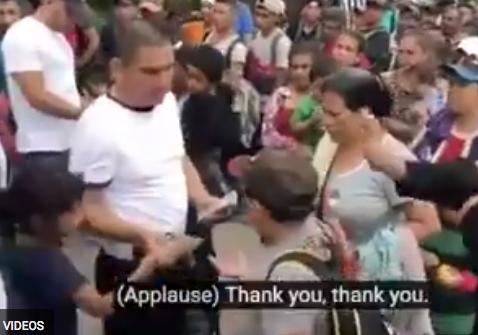 The caravan from Honduras that seeks to storm the US border has tripled in size to more than 4,000 people in just two days, as throngs of women with children were filmed being paid to join the caravan.  Congressman Matt Gaetz (R-FL) questioned why the caravan was deployed just before the midterm election, as deportation and separating children from parents who cross into the US illegally is a hot-button issue that cannot be easily solved due to an
Obama-era court ruling
.  Gaetz also suggested George Soros and NGOs funded the scheme.  President Trump issued a stern warning to Honduran President Hernandez threatening to cut US aid immediately if the caravan was not stopped.
Republican Rep. Matt Gaetz shared footage Wednesday showing women and children being paid cash to join the migrant caravan that is hurdling toward the U.S. Southern border.
Gatez suspected that George Soros cash was being used, based on very clear-cut evidence of George Soros involvement in recent political matters including the Brett Kavanaugh confirmation process. (READ: Soros-Funded Group Paying Bail Money For Kavanaugh Protesters).
BREAKING: Footage in Honduras giving cash 2 women & children 2 join the caravan & storm the US border @ election time. Soros? US-backed NGOs? Time to investigate the source! pic.twitter.com/5pEByiGkkN

— Rep. Matt Gaetz (@RepMattGaetz) October 17, 2018
Trending: EXCLUSIVE VIDEO: Nancy Pelosi Confronted By Pro-Trump Cubans In Florida
The latest migrant caravan heading in the direction of the United States border doubled in size between Saturday and Monday, prompting a concerned statement from a U.S. embassy. Will Mexico be able to stop the caravan before it reaches the U.S. border?
Up to 3,000 migrants crossed from Honduras into Guatemala on Monday on a trek northward, after a standoff with police in riot gear and warnings from Washington that migrants should not try to enter the United States illegally.
The crowd more than doubled in size from Saturday, when some 1,300 people set off from northern Honduras in what has been dubbed "March of the Migrant," an organizer said. The migrants plan to seek refugee status in Mexico or pass through to the United States.
Reuters could not independently verify the number of participants, but images showed a group carrying backpacks and clogging roads near the border, some waving the Honduran flag.
The impoverished nations of Central America, from which thousands of migrants have fled in recent years, are under mounting pressure from U.S. President Donald Trump's administration to do more to curb mass migration.
"We are seriously concerned about the caravan of migrants traveling north from Honduras, with false promises of entering the United States by those who seek to exploit their compatriots," the U.S. Embassy in Honduras said in a statement on Sunday evening.