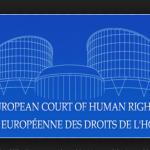 European Court Upholds Imprisonment of Woman for Calling Mohammed a Pedophile
The European Court of Human Rights upheld a conviction against an Austrian woman who called the Islamic prophet Mohammed a "pedophile," claiming that this does not violate her freedom of expression. Aisha is said to have been six or seven years old when she married the prophet Mohammed and nine or ten years old at the time of consummation, which fits the Western definition of pedophilia. So what, says the EU court. -GEG 
The European Court upheld a conviction against an Austrian woman who called the prophet Muhammad a pedophile.
Muhammad took six-year-old Aisha as one of his brides and consummated the marriage when she was nine or ten.
That is the definition of pedophilia. Aisha herself wrote about when her marriage was consummated when she was nine (Sahih Bukhari volume 5, book 58, number 234).
But you cannot mention this today in Europe – a former Christian continent.
The future does not look good for the Western world as long as insane and self-hating leftists hold power.