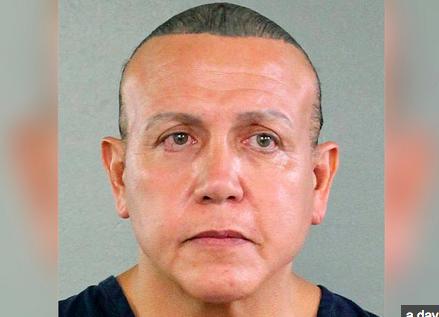 Cesar Sayoc, 56, was arrested on on charges related to the phony non-exploding bombs that were sent to 12 people.  There are conflicting reports that say Sayoc intentionally made the "bombs" to be harmless and another wherein he denies making the devices.  His social media accounts followed Democrats instead of Trump and Republicans.  According to reports, Mr. Sayoc shows signs of mental illness.  The story is being used by the  mainstream media to cast Trump and Republicans in a negative light ahead of the midterm elections. 
Summary by JW Williams
Cesar Sayoc, 56, accused of preparing and sending 12 inactive devices that looked like bombs to prominent Democrats last week, was arrested in Florida.  He told investigators that his packages were not meant to hurt anyone.  Four more fake bombs were discovered, addressed to California Senator Kamala Harris, billionaire liberal activist Tom Steyer, New Jersey Senator Cory Booker and former National Security Director James Clapper.
.
Sayoc is a bodybuilder, and claimed to be an American Indian from the Seminole tribe, but reports indicate that his father was Filipino and his mother is Italian.  He reportedly lived in his van, as he had been kicked them out of his parent's home.  Sayoc is a registered Republican.  Records show a total of eight arrests, including on suspicion of grand theft, fraud, drug possession, battery and probation violations.  He was arrested in 2002 after phoning in a bomb threat to Florida Power and Light, threatening blow them up "worse than Sept. 11," if his power was shut off.  He pleaded guilty to charges of possessing illegal anabolic steroids with intent to distribute in 2004.
.
He was a promoter for Chippendales male strippers and worked delivering pizzas earlier this year.  Debra Gureghian, the pizza restaurant manager, said that Sayoc was "crazed" and was very angry and angry at the world, at blacks, Jews and gays.  Although, one report stated that Sayoc's van was parked outside a kosher market at night for over a year.
.
FBI Director Christopher Wray said during a Friday press conference that "these were not "hoax" devices," despite the fact that they were designed to not explode.
.
Infowars reported that despite Sayoc's vehicle being festooned with pro-Trump stickers and him attending Trump rallies, the so-called 'MAGA bomber' doesn't follow any Republicans or conservatives on Twitter, not even President Trump himself, instead, he chose to follow left-wing personalities like Lena Dunham, John Oliver, Ellen DeGeneres, Jimmy Kimmel and Barack Obama.  However, all of Sayoc's tweets are pro-Trump and anti-Democrat.
.
Sayoc says he was didn't do it.
Sources:
https://www.zerohedge.com/news/2018-10-26/he-was-crazed-what-we-know-about-suspected-mail-bomber-cesar-sayoc
https://www.dailywire.com/news/37647/5-things-you-need-know-about-bomb-suspect-hank-berrien
https://www.thegatewaypundit.com/2018/10/arrested-package-bomber-cesar-sayoc-jr-has-a-extensive-rap-sheet-includes-conviction-for-dealing-steroids-terroristic-threats/
https://www.informationliberation.com/?id=59263
Alleged 'MAGA Bomber' Cesar Sayoc Only Follows Left-Wing People on Twitter