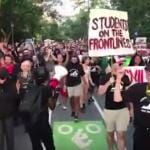 Charlottesville, VA: Mainstream Media Is Silent on Antifa Beating of Policeman and Assault Against News Crew
About 200 Antifa protesters displayed anger at the one-year anniversary of the 'Unite the Right' rally in Charlottesville, even though no members of the far-right attended. The leftist domestic terrorists assaulted an NBC news crew and beat a police officer. The protesters lunged at the media for filming the march and they screamed at police for wearing riot gear. Earlier in the day, they chanted, "all cops are racist" and "cops and Klan go hand in hand." -GEG
Summary by JW Williams
There were two locations for demonstrations on the anniversary of the Charlottesville, on was in Charlottesville and the official 'Unite the Right 2' rally was in Washington, DC.
Charlottesville, Virginia:
About 200 Antifa protesters displayed anger at the one-year anniversary of the 'Unite the Right' rally in Charlottesville, even though no members of the far-right attended. The leftist domestic terrorists assaulted an NBC news crew and beat a police officer. The protesters lunged at the media for filming the march and they screamed at police for wearing riot gear. Earlier in the day, they chanted, "all cops are racist" and "cops and Klan go hand in hand."
Sources:
Daily Caller, Information Liberation and RT
Washington, DC:
The 'Unite the Right 2' demonstrators, led by Jason Kessler, reported to be affiliated with the leftist 'Occupy Wall Street' movement that has ties to George Soros, took their protest to Washington, DC to commemorate their rally in Charlottesville last year that ended in riot. Only a few dozen so-called right-wingers showed up, but thousands of counter-protesters and Antifa terrorists attended. Black Lives Matter activists shut down streets by threatening people in cars. The 'rally eventually was called off due to rain. Police kept the opposing groups separated.