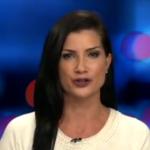 Twitter Favors Leftist Politics, Allows Threat Against Murdering NRA Spokeswoman's Children to Stand
Twitter, known for censoring and banning conservatives, refused to remove a threat to the children of NRA spokeswoman, Dana Loesch, when an anti-gun leftist posted the following message: "The only way these people learn is if it effects them directly, so if Dana Loesch has to have her children murdered before she'll understand, I guess that's what needs to happen." Twitter said that their team reviewed the tweet and found that it did not violate their rules. Later, after Loesch posted Twitter's response, the company changed its position and locked the account of the author of the offensive tweet until they comply with Twitter's policies. -GEG
Twitter CEO Jack Dorsey has come under increased scrutiny in recent weeks over his company's standards for censoring users, particularly regarding the company's apparent political bias in favor of the Left. NRA spokeswoman Dana Loesch added more fuel to the fire on Monday by tweeting out an example of what @TwitterSupport deemed language that it said was not a violation of its "abusive behavior" rules.
"The only way these people learn is if it effects them directly," wrote one leftist Loesch critic. "So if Dana Loesch has to have her children murdered before she'll understand, I guess that's what needs to happen."
Loesch alerted Twitter about the alarming tweet, but soon learned that the social media support team, after reviewing her report "carefully," concluded that "there was no violation of Twitter Rules against abusive behavior."
"Apparently this doesn't violate @TwitterSupport TOS," wrote Loesch. "I know several conservatives who have been suspended for far less."
As Hot Air's Jazz Shaw notes, the response from Twitter demonstrates that the company doesn't just use an algorithm to flag tweets, it also has a team dedicated to personally reviewing tweets to determine what they think is a violation. If that team leans in one political direction, the chances of a politically-biased ruling is more likely. So far, like Facebook, Twitter's track record demonstrates a rather pronounced left-ward lean.
Back in July, Dorsey admitted that his company has a bias perception problem, citing the issue of "shadowbanning."