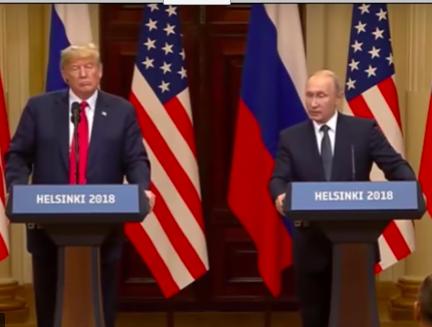 Putin offered to allow Mueller's team to join him in Russia to interrogate the 12 Russians who were indicted, in exchange for allowing Putin to question Bill Browder, an investment banker from America who reaped billions from Russia in 1990s and was convicted of tax fraud.
By JW Williams
President Trump met with Russian President Putin in Helsinki and Putin dropped a bombshell about a $400 million contribution to Hillary's campaign fund by Bill Browder, who was convicted of tax fraud in Russia.
Both Trump and Putin have been
maligned
in Western media and by 'deep state' politicians like former CIA
Director
John Brennan, who are threatened by peace, and accused Trump of treason!
Putin offered to interrogate the 12 Russian nationals who were indicted by Mueller, and invited Mueller's team to come to Russia to join him in the questioning.  Putin then said that he would like the US to reciprocate by producing some American people whom he accuses of crimes against Russia.  Putin said that Bill Browder, a hedge fund manager from America, failed to pay taxes on $1.5 billion on revenue from Russia, which is a crime.  He also said that Browder and his associates contributed to $400 million to Hillary Clinton's campaign, which Putin later claimed was only $400,000.
.
Investigative journalist Lee Stranahan has been uncovering the sprawling story of Bill Browder, whom he blames for most of the 'Russiagate' hysteria, for over a year.  Browder is the grandson of Earl Browder, the head of the Communist Party USA, who was also a spy under Josef Stalin.
Stranahan says he made billions by buying grossly undervalued businesses.  Browder was banned from Russia and his offices were raided after disputed tax schemes were discovered.  He was later convicted in 2013, in absentia, of tax fraud by a Russian court, and will be subject to arrest and imprisonment if he returns to Russia.  An accountant who worked for one of Browder's company, Sergey Magnitsky, was also convicted of tax fraud and he went to prison.  Magnitsky died in prison due to harsh conditions and poor health, according to his mother.  It was not murder, as is claimed by Browder, according to Magnitsky's mother.
Strananhan says that Browder took revenge on Putin for banning him from Russia and convicting him of tax fraud by lobbying for the Magnitsky Act, which signed by Obama, and allows assets held by Russian individuals in America to be frozen.  Browder claims that Magnitsky was his lawyer, but evidence shows that Magnitsky was an accountant.  The Magnitsky Act was supported by neocon John McCain.
.
'
Click here
for fascinating speech by Browder on how he bought and sold Russian businesses.
.
**This article has been revised to reflect updates requested by Mr. Browder's attorney.
.
After the press conference in Helsinki, Putin said that the amount donated to Hillary Clinton's campaign by Mr. Browder was $400,000, not $400 million as he stated during the presser.  
Mr. Browder denies the claim, and his attorney said that there is no public record that Browder made any contributions to Hillary Clinton's campaign. 
.
Here is a statement from Mr. Browder that was provided by his attorney:
.
"Putin's latest allegation that I donated $400 million to Hillary Clinton is so ludicrous and untrue that it falls into delusion. I've never made a political donation to Hillary Clinton or any other political candidate."