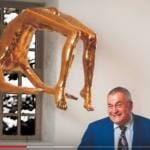 Tony Podesta, a Clinton Friend, and Trump Campaign Manager Paul Manafort Are Charged with the Same Crime. Podesta Has Been Offered Immunity to Testify Against Manafort.
Tony Podesta, a powerful Washington lobbyist and brother of Clinton Campaign manager John Podesta, has been offered immunity in exchange for testifying against Trump campaign manager Paul Manafort. The Podesta Group worked with Paul Manafort to lobby on behalf of Ukrainian interests in the United States without properly registering under the Foreign Registration Act (FARA). Manafort is in solitary confinement and faces a life sentence, while Podesta could skate. Both men worked for the Ukrainian group before Trump ever announced he would run for president. When laws are applied unequally, they become political tools.
Roger stone says that Tony Podesta was the lobbyist for the Russian-owned energy company Rostov, that acquired Uranium One.