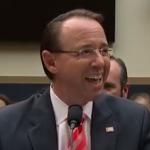 Republican Lawmakers Introduced Articles of Impeachment Against Deputy Attorney General Rod Rosenstein
Republican lawmakers, led by Mark Meadows and Jim Jordan, introduced articles of impeachment against Deputy Attorney General Rod Rosenstein, the top official in the Department of Justice (DOJ) overseeing Robert Mueller's investigation. They cited a failure to comply with House oversight requests. The House conservatives further chastised the DOJ and Rosenstein for withholding embarrassing documents, knowingly hiding information, abusing the Foreign Intelligence Surveillance Act (FISA) process, and failure to comply with Congressional subpoenas. The House only requires a simple majority of of the legislative chamber (218 votes) to impeach a member of the executive or judicial branch. If the House were to impeach Rosenstein, then the Senate will require a two-thirds majority to remove him from office. -GEG
Reps. Mark Meadows (R-NC), Jim Jordan (R-OH), and other House Republicans introduced articles of impeachment against Deputy Attorney General Rod Rosenstein on Wednesday.
Meadows and Jordan argued that the Department of Justice (DOJ) had problematic decision-making during the 2016 presidential campaign and failed to comply with House oversight requests. The House conservatives also chastised the DOJ and Rosenstein for withholding "embarrassing documents," knowingly hiding information from Congress, abusing the Foreign Intelligence Surveillance Act (FISA) process, and "failure to comply with Congressional subpoenas."
The Constitution empowers the House to impeach any officer of the executive or judicial branches. However, that only occurs in rare instances. The House only requires a simple majority of of the legislative chamber, or roughly 218 votes, to impeach a member of the executive or judicial branch. If the House were to impeach Rosenstein, then the Senate will require a two-thirds majority to remove him from office.
Jordan said in a statement on Wednesday, "The DOJ is keeping information from Congress. Enough is enough. It's time to hold Mr. Rosenstein accountable for blocking Congress's constitutional oversight role."