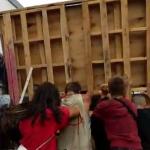 Irony in Portland: An Open-Borders Activist Group Built a Border Wall to Protect Their Tent Encampment
Click link below for video embedded in article.
On Wednesday, The Daily Wire reported that "Occupy ICE" protesters in Portland had been given eviction notices and were ordered to pack up their belongings and demonstrate against vague notions of tyranny and oppression elsewhere.
But while some indeed cleared out (in a manner of speaking, at least), others decided to stay and fight, erecting — ironically — a "border wall" to enclose the Occupy ICE PDX encampment and stationing "border guards" around their tiny independent nation.
No, really. The border wall, which is in fact quite high (perhaps, say, to prevent border jumpers), went up over the weekend.
On Wednesday, bystanders noticed that Occupy ICE PDX had furthered militarized their border, stationing a "border patrol" around the perimeter and charging their new "wall guards" with monitoring their makeshift border wall around the clock.