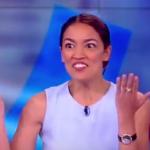 'Democrat Socialist' Alexandria Ocasio-Cortez, Explains Her Political Platform. It Is Merely A New Name for Marxism.
So-called Democratic Socialist, Alexandria Ocasio-Cortez, a rising star in the Democrat party, is campaigning for free health care, free college tuition, subsidized housing, open borders, tax-supported renewable energy, and a minimum wage for everyone. To fund these programs, she says that the ultra-wealthy should pay their fair share, and corporations should pay a 28% tax rate, which would collect $2 trillion. [She is clueless that corporations never pay taxes, because every penny of what they pay is passed on to the consumers of their products and services in the form of higher prices. The people who vote for Alexandria will end up paying all the corporate taxes they think are so great. She also is clueless that higher taxes for those who succeed in business will drive them from the country (leaving many of their their former employees out of work and living in tents. She is totally clueless about economic fundamentals in spite of her degree in Economics at Boston College – or perhaps it is BECAUSE of her degree. She will be perfect as a Pied Piper to lead a parade of clueless socialists to the Democrat Party – and then to oblivion.] -GEG
Campus Reform interviewed supporters of newcomer Alexandria Ocasio-Cortez to discover how they expect to fund her "free" programs, and it would be funny, if it weren't so sad, when they realize that the people pay for "freebies" with their taxes. Millennials are now the largest voting block. Success has been demonized in America.