Sweden: An Activist Stopped a Plane from Take-Off in Order to Save an Afghan Migrant from Deportation.  That Migrant Is Now in Jail.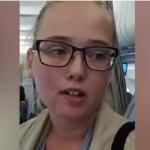 Student Elin Ersson boarded a plane at Gothenburg airport and refused to take her seat in order to prevent the scheduled deportation of an Afghan man who was was on the flight.  The Swedish media is now reporting that the 52-year old Afghan man who Ersson temporarily delayed from being deported was convicted of criminal assault "abuse" and was sentenced to two years in prison before he will be expelled from the country.  She excused her actions by saying that she had no information about the man or why he was being deported.
Update: Finnish G
Save My Sweden:
According to Helsingin Sanomat, [the 52-year-old Afghan man] has received a prison sentence in Sweden for abuse. The newspaper also writes that his asylum application was rejected and that he should be expelled to Afghanistan. He will still be expelled, but when is unclear.

– "I had no information about him before and did not find out later. It was him as human I tried to help, and did not focus on what he had previously done in his life. It was my personal decision," says Elin Ersson to Dagens Nyheter, who also writes that he has been sentenced to imprisonment.

Hanif Bali claims on Twitter that the man has been sentenced to two years in prison and expulsion because of criminal assault.
Finland: Woman Tries to Stop Plane to Prevent Migrant's Deportation, Gets Swiftly Arrested
From Information Liberation:
Yle.fi:
On Tuesday police at Helsinki Airport removed Aino Pennanen, the legal officer of Finland's Greens party, from a plane for refusing to be seated. Pennanen said she was protesting the deportation of a fellow passenger.

Police cited Pennanen for causing an aviation misdemeanour but she is not suspected of having committed a crime.

Pennanen broadcast live video of her protest on Facebook as it unfolded on Tuesday. The plane's departure was delayed by about ten minutes.
She thought she was going to achieve social media fame and be the next Elin Ersson, instead she was arrested immediately and managed to delay the plane for only ten minutes.