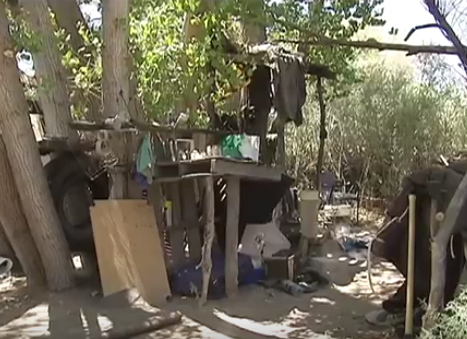 Tucson, Arizona: An underground bunker on the property of an abandoned cement plant was discovered that investigators believe was used for child trafficking. Children's toys and clothing confirm that small children had been present, but the most disturbing discovery was a pair of hand restraints fastened to tree trunks in a position that typically is used when torturing or abusing a victim. A baby stroller and pornographic materials also were found. None of these things are proof that children were abused in this camp, but the evidence is jolting. -GEG
Dozens of American citizens have joined forces with veterans to expose what they believe is a child-trafficking camp hidden inside the Arizona woods.
Veterans on Patrol, a homeless Veterans advocacy group, stumbled upon the encampment in Tucson, last Tuesday, but it wasn't a typical homeless camp.
As Gateway Pundit reported on Sunday , the team of veterans found trees with restraints on them at the site, children's clothing, a baby crib, a stroller, an outdoor bathroom, toys, pornographic material, hair dye, boxes of condoms and a 5 feet tall underground cave furnished with a dresser and crates.
The cave the was not big enough for an adult, but a child could easily fit inside.
The land on which the bunker was found is owned by Cemex Construction Materials South, LLLC., a multinational building materials company in Mexico and partner of the Clinton Global Initiative.
According to federal lobbying disclosures, Cemex donated $25,000 to the Clinton Foundation.